Why Caching?
Caching is used for radiosity processes for two main reasons:
To speed up rendering by saving already calculated data and reusing it when the data can be applied
To make sure animations don't flicker.
Without caching animations with interpolated radiosity will flicker due to the slight variations in shading for each newly calculated radiosity solution, and it's extremely hard to get rid of this. Before caching the only way to use GI and render animations without flicker was to use non-interpolated Monte Carlo which is very slow and usually this disqualified using radiosity for animations, making people resort to setting up elaborate lighting rigs to simulate radiosity without actually using it. These rigs still come in handy sometimes, but with the speed and caching options of radiosity in LightWave today, using radiosity is usually both faster and easier to setup as well as faster to render.
There are two entirely different modes of caching in LightWave. One is called the static cache, which is the default, and the other the animated cache. They work quite differently and have different applications. Expecting one to work like the other is the source of many wasted computation hours and frustrations, so understand the process and properties well for each. There are various work flows possible to suit your needs, and it is extremely flexible in its application.
How the information is stored
Caching stores some but not all of the information associated with these calculations which are called 'preprocessing' in LightWave (the red progress bar in the render status window). Depending on the cached mode, different information will be stored. The static cache (when the animation checkbox is off) stores the evaluation points including their shading. Because the shading is stored it cannot change and any changes in light or object movement will not be reflected in the solution. Sometimes this is not a problem, but if you have animation where other things move other than the camera, you will have to use animated caching. Animated caching does not store the shading information, only the location of the sample points. This means the calculation of the cache is much faster than that of the static cache, but the GI is recalculated each frame, thus slower, since it has to recalculate the shading for each frame all over. This does however allow you to use radiosity and animate nearly everything, lights, objects, and so on. There are some restrictions to using this, which are summed up further along.
The radiosity process as explained above details two stages: the placement of samples and the casting of rays to collect information for the shading of those samples. In the interpolated modes the samples are then interpolated to get a smooth result. For each preprocessed frame information of the radiosity process is then added to the cache file on disk. The radiosity process works in full 3D space, and that information is also stored that way. The samples are really lying on top of the geometry they are shading. This means that it is not associated with anything other than the geometry it is affecting, and not with a particular camera or surface. A cache can be created with one camera and rendered with another. As long as all the areas visible to the second camera have been preprocessed, it should work just fine. This also means that during the calculation of a cache LightWave can already make use of the cache to speed up rendering. Let's say your camera moves half a view angle after the calculation of the first frame to calculate the cache for the second frame, half of the space that camera sees has already been processed therefore can be loaded from disk. LightWave handles this automatically and you do not need to remember what has been stored or not. If you accidentally try to store an area which has already been done, LightWave still preprocesses it, but by reusing the data already on disk will be really fast thus not penalize you with a lengthy unnecessary render.
The process:
First a cache location and file has to be set. The file will be automatically created when it does not exist. Then there are two ways to go about making a cache:
Render the scene and have each frame's radiosity information stored to disk
Bake the radiosity of the scene and render the scene afterwards
Some of this is personal preference, but there are some differences to be aware of. The first method tends to render slightly faster as some processes in the second method are redundant. But even for big scenes those differences are small. However you do have a two-step process in between which the computer might be sitting idle because it requires user intervention to start the render phase once the scene has been baked. The second option has its main application for network rendering. Instead of rendering the frames immediately on one machine, one often wants to use a render farm. You 'bake' the scene, which means as much as generating just the radiosity cache and not render, and then have all the computers in the network use that stored cache to create flicker free radiosity animation over the network.
Preprocessing can be done in various ways, depending on your use. Normally preprocessing is set to Auto and this works for most situations. It should be noted that LWSN nodes always use the 'locked' method regardless to what the scene is set to. Here's a description of the various preprocessing modes:
| | |
| --- | --- |
| Preprocessing mode: | Description |
| Automatic | Automatic preprocesses each frame in compliance with the cache Frame Step setting, and stores all the information available. It remembers which frame has already been stored, and will skip preprocessing of these frames and just load the solution if it encounters them. It will make sure that frames in between the set Frame Step are also not preprocessed. |
| Always | Forces LightWave to always preprocess a frame regardless of it already having bee processed before. This is necessary when you have 5 cameras in a room pointed at different directions and you want to bake to the cache from each one without actually going through different frames. If you use Automatic in this case, LightWave will detect that the frame has already been processed and skip it, however you are using a different camera which sees different things so you'll have to use 'Always' to force it anyway. It's also necessary when baking a few single frames in between the frame step interval to enrich the cache where it's necessary. |
| Never | Uses the cache saved to disk and never preprocesses it. This is useful when you have a nice cache of a space and do not feel it needs further refinement. You can then extend the frame range and it will never preprocess. However, samples are still generated in previously unseen areas due to spatial effects of AA, Motion blur and others during normal rendering. These samples are still stored to disk with this setting, and reused for other frames. |
| Locked | This mode is much like 'Never' except that it does not store the samples it finds during rendering to disk. It does compute them to make sure there are no black holes or ugly unseen areas and artefacting, but it does not touch the cache file at all. This is a good setting for a scene where the cache has been carefully constructed and you want no scene to mess with it, just use it. This is the mode LWSN operates in, as they are not allowed to write to the cache file. |
The options
Below the different options available and a description of their use and function
| | |
| --- | --- |
| Option: | Description: |
| Cache Checkbox | Switches the use of caching on and off. Settings are retained when switched off. |
| Preprocess | Changes the way the GI preprocessing is handled and stored. Choices are Automatic, Always, Never and Locked (see above). Default is Automatic. |
| Animation checkbox | Switches on the animated cache functionality. This only works when Monte Carlo or Backdrop Only has been set as the radiosity mode, since Final Gather does not support it. |
| Frame Step | Defines the frame step for the radiosity preprocessing. This is useful to spread out the calculations over an animation rather than doing each frame. With slow camera movements this can easily be set to high frame numbers. Ideally one would want only small overlap between calculated frames, to prevent overhead. |
| Cache File Path | Hitting this allows you to set a path for the cache file. A name is automatically filled out if you don't set one manually. |
| Reset Cache File Path | Resets the cache file path to the default location. |
| Clear Radiosity Cache | Deletes the cache file, but the path will stay the same. |
| Bake Radiosity Frame | Calculates (preprocesses) the GI of the current frame and stores it in the cache file |
| Bake Radiosity Scene | Calculates (preprocesses) the GI of the entire scene as defined in the frame range & Cache Frame Step |

Animated Cache Notes
The actual working of the animated cache has been described above. However, there are some things you want to consider when you work with it a lot, or in specific scenes. First, you won't save much render time with it like the static cache does. It's really only preventing flicker. That's usually fine as LW's radiosity is really fast. There are also several circumstances in which the animated GI does not work well. Here's the list so far:
Deformed objects (creates millions of sample points, renders very slow, and eventually might run out of memory)
Volumetric plug-ins (HD Instance)
Intersecting objects can create light artifacts on the intersection
Small very bright luminous objects can cause flickering due to the rays being too dispersed creating too large a variance per shading point
Moving shadows do not generate extra sample points, thus can look a bit ragged. Increase sample density if possible.
Do not use the GI resolution multiplier with animated GI. It causes increasingly longer render times and possible flicker.
Truly understanding how the cache system works might allow you to understand these items more, but also might make you aware of potential problems. If your animated cache (to a limited degree this is valid for the static cache as well, but there it isn't as noticeable) goes increasingly slower... eg a long animation takes four times as long per frame after baking than without a baked solution. This would seem like a bug, but it actually makes a lot of sense, and it works as it's supposed to, and you can control for this as well.
The below scene had this problem at some point.

Understanding the caching process you can see why this happens. When baking, it places sample points only. However, it does so for the entire animation. If you zoom into a wall or objects turn, swivel and reveal parts of the scene that was previously unseen, more sample points are generated. On some complex objects with a lot of irregular geometry, or very complex scenes, these sample points might start to accumulate a fair bit (see example image below). So, after the scene bake, every frame has considerably more sample points than rendering a direct frame. There are several ways you can solve this.
You can increase the MPS settings (example: 1.0-50.0 to 3.0-200 perhaps). While for a single frame this might be ugly, once the bake is done, it likely has plenty of sample points accumulated.

You can bake using a frame step larger than one (my preferred method). For slow movements you can increase this quite a bit, as not a whole lot is revealed in the meantime. I have had scenes where this was set at 20. this means new sample points will only be generated every 20th frame, resulting in much less cluttering. Setting this too high, however, leads to flickering, because sample points are missing where they are needed, and LW fills them in on the fly to prevent gaps. So be careful, run a test if possible.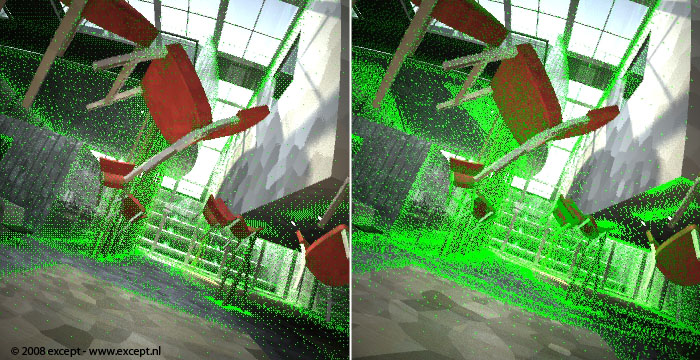 | | |
| --- | --- |
| Render showing sample points without baking | Render showing sample points after baking 200 frames |
Using RenderQ
The disk cache always needs to be created with a single computer. This part of the process cannot be distributed among a network of computers since each frame is highly dependent on another. However, since it's always recommended to bake the scene first prior to rendering it, a tool called RenderQ helps when using a single machine. It's like a tiny scene render manager that allows you to set up various scenes to render in a 'play list' of sorts, and then performs them. It has a special switch for baking in the bottom right corner. When this is enabled, all the scenes that are added will bake the GI first, then reload and render the scene. Very handy!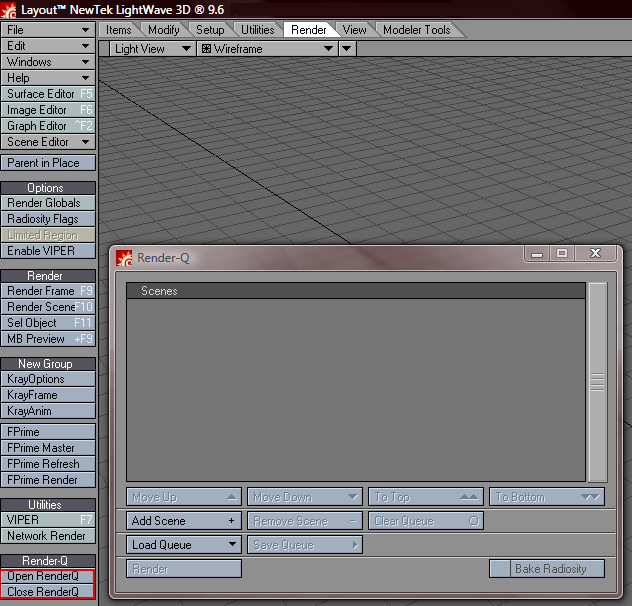 The RenderQ panel
You need to use the 'close RenderQ' button to stop the panel from popping up every time you start LW.
Cache Tips
There are many ways to use the cache. Here are some tips that might indicate some uses, and some tips:
Bake a cache of a scene, then set the preprocessing to 'locked' and now play with the colors and surfaces of the scene. You see that you can still change them, except that their color cast does not update. Usually color cast and bleed is subtle and for previewing is not necessary. This is a great way to discuss material selections with a client without doing a lengthy radiosity render over and over again. Just use the cache and once selections have been defined, re-render the cache to make sure all color bleeds and casts are performed using the correct surfaces.
Do not use the animated radiosity when you do not need it. Firstly, it has more restrictions, and second, illumination is not stored, only sample placement, thus you might not have much speed gain compared to normal non-cached rendering.
The cache frame step is remembered once a cache has been baked, even though you change it, which can be a bit confusing, as it won't actually perform that change.
Even when doing random test renders, keep the cache on. You can always hit 'clear cache' to reset it fast, and it does not cost any render time to save the cache file.
Cache data is saved to the cache even when a render is aborted, therefore you can pick it up where you left off, and it will reuse the data that was already rendered. This does mean you'll have to clear the cache if you make a significant change to your scene before rendering again or it might use incorrect cache data.
If you have very highly irregular objects in your scene, it might be that the cache system keeps adding new samples because areas are per frame seen that were unseen, like grass, trees and so on. The cache may get choked, rendering goes increasingly slower and eventually might become unworkable. In these cases, reduce the problems by using high Angular Tolerance, and make sure 'use bumps is off. If that's not enough bake out just a few frames of the animation, enough to have full coverage of all large objects, and then set preprocessing to 'never'. That works well and you'll get a constant render time without choking. The samples will still be generated but discarded afterwards, and thus not create congestion further down. You do risk flickering here, so make sure you do a test run.