This project arose from the joint desire of WWF and Lafarge to contribute original research to move the construction sector towards a sustainable future. We examined 11 exemplary urban districts and neighborhoods around the world from inception to inhabited, using a systemic and holistic perspective. We extracted the success and failure factors, and uncovered new strategies that accelerate sustainable development both on a project and building sector level.
The result is available in a comprehensively illustrated book, downloadable from this page, or read it online at ISSUU.
What did we find?
We found tangible conclusions for every of the 11 projects that help new settlements learn and improve. In the book, we extracted successful approaches that increase overall performance as well as sustainability performance.
We found that sustainability targets change the practice of urban development as well as the roles of contributors and beneficiaries. Implementing the lessons learned in these projects will significantly speed up new sustainable development projects around the world. In addition, we've found strategies to achieve improved performance in the construction industry globally.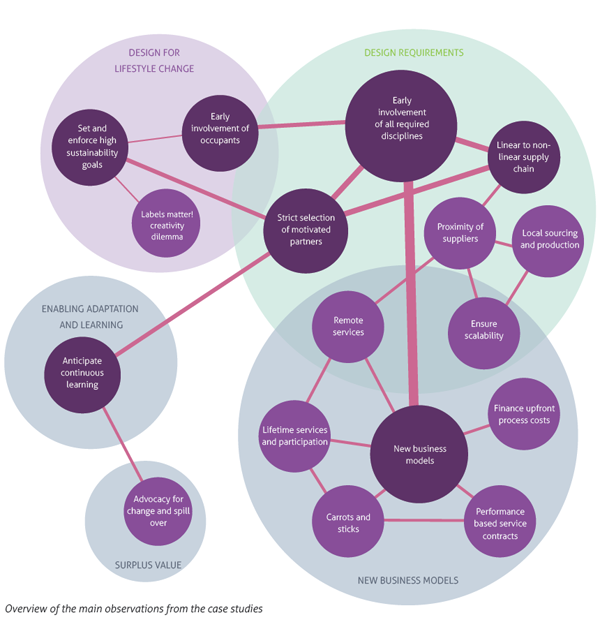 The report
The report, downloadable below or read online at ISSUU, contains a wealth of examples, recommendations and leassons learned, on both a project level and a sector level, in two parts.
Part 1 is an overview of lessons and conclusions, covering among others:
How is sustainable urban development different?
A holistic design and 360 degree scope
Mind-shift: build to be resilient
Ambition setting
Business models
Work culture
Road map for Sector change
Performance monitoring
Part 2  documents -in detail- how the studied projects successfully apply the presented strategies. These projects serve as inspiration and proof that the suggested strategies lead to significantly improved performance levels.
Each project shows a schematic timeline of which parties had what responsibilities. These overviews show a 'blueprint' of the project's planning process and at-a-glance oversight of the character of each project.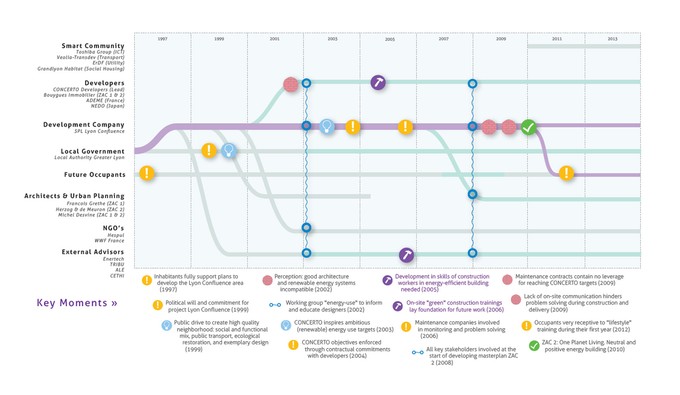 Partners
Many thanks go to all the people who contributed to this research via interviews, access to the sites, materials, support, and research, among which:
Laila Petrie (WWF)
Vincent Mages (Lafarge)
François Baillon (FIDIC)
Vallishree Murthy (British Glass)
Clare Broadbent (World Steel)
Phillippe Fonta (WBCSD)
Soraya Smaoun (UNEP)
Curt Garrigan (UNEP)
Jean-Paul Jeanrenaud (WWF International)
Jennifer Meunier (WWF International)
Carina Borgstrom Hansson (WWF Sweden)
Media & Downloads