How do we work?
To achieve our mission of "creating the foundation of a sustainable future" in the most effective way possible, we have developed a new way of working. This is not for everyone, so realize the following things when considering approaching us.
We are a cooperative of independent entrepreneurs. We do not hire staff except for some support fuctions. We are open to applications  from independent professionals of all disciplines at any time.
We are open for a limited number of internships and trainee positions each year. These are not your easy run-of-the-mill internships, you'll be pushed to your limits and receive a lot of responsibility. We look forward to adopting you as an associate at the end of the internship, so we want you to stay if it works well. If that's what you want, read on.

Cooperative of entrepeneurs? How does that work?
Working at Except is a far cry from working in a conventional organization. In order to establish an organization that bursts with talent, entrepreneurial spirit, engaging personalities and a strong work ethic, we've gone from being a 'normal' company with employees to a new model we developed ourselves. That's why  we do not hire people in the conventional sense. It's important for all applicants to realize that you're not applying for a job, but you are applying to join a group of co-operating independent entrepreneurs, as an independent entrepreneur.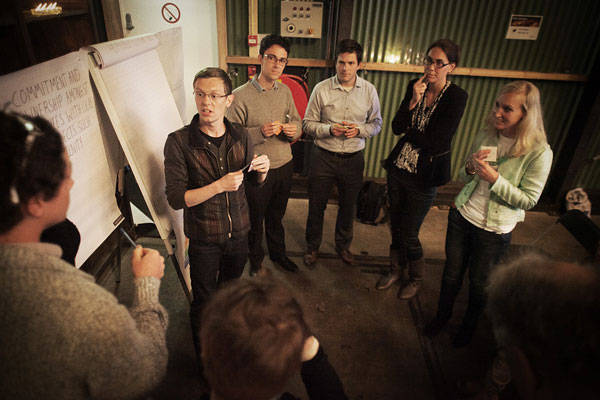 Working independently together
We are a group of hard working, passionate and commited individuals with a strong vision and the capacity to realize it. We take responsibilities for our own action and are therefore free, independent professionals that choose to collaborate, because we know this works. Except is our glue, streamlines our work, guarantees quality and provides tools, knowledge and the support we need to do big projects as well as small ones. Except provides us with the central sustainability methodology we all use and help build, called Symbiosis in Development. 
Most of us have been interested or involved in sustainability for the majority of our lives, and we live, breathe and love the complexities it brings, the opportunities it lays bare, and fight to prevent negative impacts throughout the spectrum.
Working with Except is working with this team of unique individuals in which you need to find your own place, contribute and help create projects that advance our joint capacity for positive change.   All of us are independent, choose who we work with, on what and how, and commit to joint standards of quality and professionality. 
Except binds us, makes us stronger, makes 1+1=3, creates joy, manages quality, and empowers us all. Except is many things for us, but something it will never be is a job agency for freelancers. Everyone at Except works hard to acquire and effectuate work, together. Nobody at Except relies on our supporting platform to deliver us work, we do this ourselves through expanding our personal networks, visiting events, finding clients, and creating projects. It's absolutely imperative any applicant understands this vital element, be sure to express your understanding and capacity to work in such a structure.

What you get
Working with Except means doing what you would do when 'entrepreneuring' on your own, but with a team of passionate professionals standing by your side, learning SiD, and having quality tools, workshops, databases, software and resources at your disposal. Except wants you to take that, and use it to the best of your abilities to develop the projects you dream of doing.
You work from train stations, meeting rooms, your home and perhaps the office, in teams or by yourself, on subjects you never even heard about last year, and Except makes it possible for you to work anywhere. No matter where or what you're doing, you're continuously increasing the quality of your work, learn, grow, and think along with clients and society. You get a coach and in time, you may coach others to find their way. In te turn, the platform adds a percentage to the fees you charge  which helps to support the platform.
Within Except we form project teams where we invest together in something we believe in, and then go out to make it happen. As with all really sustainable things, this requires an investment from you, and if you work hard, your investment will reward you. It typically takes 6 months or longer for people to get used to working with us. You need to be able to support yourself in this period and beyond in order to make this work. For many, this is an exciting as well as scary process. The feeble may not want to apply...
Are we accepting new members?
Except prides itself on being innovative, agile and efficient. In order to stay that way we restrict the size of our organization, and reserve the introduction of new professionals to exceptional individuals. You may apply, but you're going to have to show us why you think you can contribute. Read below for some guidelines.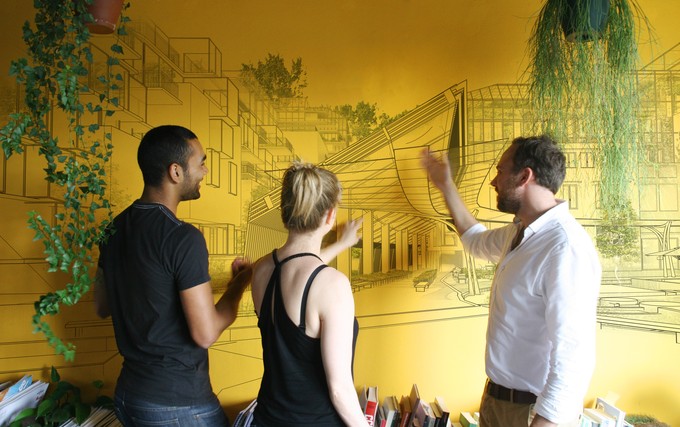 Who can apply?
We need you to have read the entirety of this page in order to apply, and follow its instructions carefully. (This also tells us you're willing to read long, boring documents :) ). You need to fit the following criteria for you to be able to join Except. In your application, make sure to directly touch upon these points, and explain how you connect with them:

Are you are an independent professional, freelancer or entrepreneur, with experience working as such? How much experience and confidence as an entrepreneur do you have? 

Are you applying as an intern or trainee for a minimum of 6 months at our main office in Utrecht? If you are applying for such a position, make sure to show the quality of your work, and the way you want to establish yourself as an entrepreneur within our co-operative.

Can you provide work for yourself through acquisition, manage clients professionally, and are you confident in your professional abilities?  

How will you position yourself as an entrepreneur, what will be your mode of operation, and how will you support yourself?

What disciplines do you master? How and why do you excel?
Do you have the time and energy to invest learning the necessary tools, processes, standards, and methods, and making yourself fit alongside us? Can and do you want to commit full time to join us? Do you have time to invest in becoming one of us?
Are you joining us to stay, work full time with us, grow together with us, and make Except your own for the long term? We forge long-term, trusting relationships. Are you ready to form this alliance?
Do you communicate fluently in English, both written and spoken? What role in a team setting do you prefer?

What is your passion, where do you want your life to go, and how could you personally use Except to achieve your dreams?
To apply, send an email to work@except.nl, with the subject line 'Exceptional member application'. Any applications sent to other mail addresses or with missing information from the list below will be filtered out. Be sure to include:
The process takes time and patience from both your and our end. We receive many applications, we accept only few, but there's always room for that special someone. What is important to us is the process of application. Please make sure to follow the process carefully and exactly, this will help speed up the process.

More on our work ethic
Every day more people decide to start working on a sustainable future. When Except started in the late 90s, interest in sustainability was just starting to percolate; now thousands of individuals around the world are contributing to the momentum.
At the same time, many realize that just having good intentions and saying you're 'green' isn't good enough. Figuring out what the "right" thing is requires hard work, thorough research, and a good serving of creativity. Our daily job is to find solutions for problems more complicated than anything humanity has faced before.
Working at Except means loving working with data and numbers and figuring out paths through what at first seem impossible situations. You love subjects as disparate as finance, design, and chemistry, and love working both collaboratively and independently. 
The Except community is made up of people who thrive on this kind of work. We are specialist generalists and generalist specialists. We're critical, love challenges, work late hours (by choice!) and push the frontier with every project.
Open Positions
We're on a roll! With projects developing in the Netherlands, USA and Asia at the same time, we need some talented new additions to our team.  Are you up for this challenge?
We're seeking the best independent professionals to aid us to develop these projects and train together to improve. You can help us by forwarding this to anyone you know that fit the descriptions below.
PR professional  (independent)
Industrial Ecologist  (independent)
Are you one of the above? Please read the section to the left to consider applying.
Try before you buy
If you have any questions, we can schedule a Skype meeting, or even better: join us for lunch or drinks to get a better understanding of who we are and what we do. Please send a mail to work@except.nl to ask about upcoming events, or  to have a  short introduction while enjoying a cup of coffee.