Applications
 For business
Gain an advantage by knowing how sustainability impacts the strategy of your organization, and how smart assessment helps steer quick decisionmaking.
How do the impacts of your services and products impact stakeholders, and how can you influence this process?
 For cities & communities
What are the most effective points of improvement for your neighborhood or building?
What are effective sustainability strategies for urban development? How can you improve the community while advancing the physical appearance and performance of your city?
 For industry
The world of stuff is changing: closed loops, supply chain interactions, new technologies, restrictions on facilities and new market opportunities.
Where can you intervene to improve your performance and prepare for future changes?
 For policy
What effects do policy decisions have when they ripple through society? What sustainability standards should be introduced in different areas of society?
Do they improve the physical performance of society, or unexpectedly cause the adverse effects? Where can policy have the biggest positive impact?
Range and Stakeholders
Except's sustainability assessments stand out by their wide range, efficiency and insight, customized to your particular situation. We include stakeholders wherever we can, and include our clients in every step of the process. 
Physical impacts
Except's custom developed Symbiosis in Development (SiD) methodology works on all layers of society, and assures a complete and thorough sustainability assessment. For physical parameters it uses the ELSIA index, shown below.
SiD evaluates these aspects for both short and long term effects, as well as global versus local impacts. This include matters of climate adaptation, social justice, CO2, circular economies, transport, biodiversity and cultural value.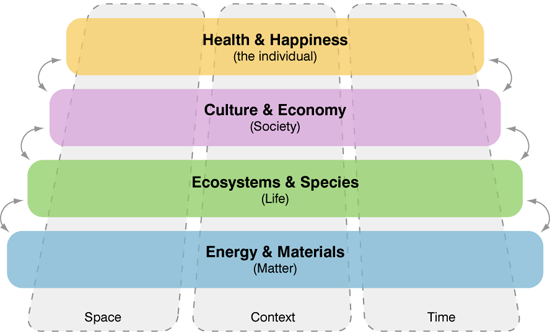 Network impacts
SiD further analyzes sustainability in terms of network impacts, such as resilience, autonomy and transparency. These bring clarity in strategic decision making.
We make use of System mapping to achieve this, which delivers clear visuals about complex delivery chains, societal impacts and system effects.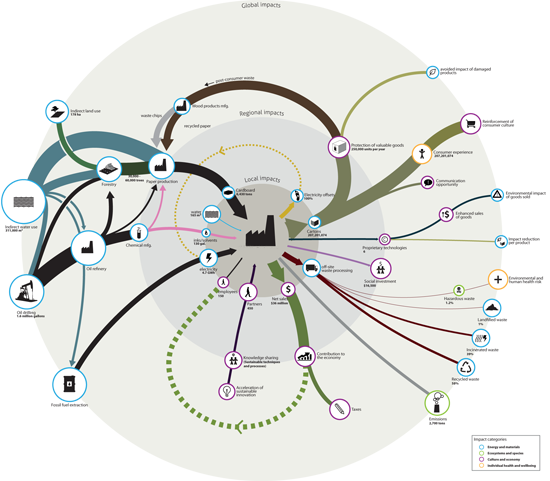 Tailored solutions
Besides evaluating sustainability in a wide variety of applications, we often develop custom sustainability measurement tools for our clients.
These tools enable custom rapid assessment, and the inclusion of sustainability considerations in all parts of an organization's decisionmaking. Examples include:
Measuring sustainability for building renovation
Creating tools for material selection
Measuring sustainability for onshore wind farms
Visualizing social justice impacts from waste processing
Creating dynamic material flow analysis software

Contact us to talk about possibilities for tailored sustainability tools.
Additional tools
A sustainability assessment trajectory can include:
Location & facility audits
Carbon assessment & Accounting
Life Cycle Assessment (LCA)
Indicator Development
Thermal & Energy analysis
Biodiversity measurements
Stakeholder and production chain analysis

Contact us for more information about these tools.
Examples